Luciana Gimenez
Luciana Gimenez is an international model and TV host.
In Brazil, where she is compared to the likes of Oprah or Chelsea Handler, she hosts two of the highest rated nightly shows on television; Superpop!, which lead in ratings for more than 15 years, and the latest hit Luciana by Night both shot and aired live in front of a studio audience.
In the United States Luciana had numerous appearances in shows such as Access Hollywood, and The View, which she co-hosted alongside Barbara Walters, Whoopi Goldberg and Sherri Shepherd in 2013.
Gimenez splits her time between her homes in New York and Sao Paulo. In her native country, Luciana also has her own lines of shoes, fragrance and accessories.
Luciana Gimenez is an international model and TV show hostess born in São Paulo, Brazil. Her father João Morad, businessman and nightclub entrepreneur, threw a six-day party to celebrate her birth. Her half-brother, Marco Antônio Gimenez, and their mother, Vera Gimenez, are acclaimed Brazilian actors. The family is of Lebanese and Spanish heritage.
Luciana started her modeling career at age 13, and has worked in many cities around the world, such as Paris, Hamburg, Milan and New York.
The Brazilian bombshell later became a TV hostess on Brazil's RedeTV!. Her rocky debut with the variety show Superpop!, fueled by unfortunate on-air mishaps, quickly brought out an unexpectedly irreverent and unmeasured side of her, which turned out to be the key to her highly successful career and her trademark. Superpop!, under her command, has been on air for almost two decades. Gimenez has recently added the live nightly talk show Luciana by Night to her resume, occupying the male-dominated late night programming block. Gimenez has skilfully interviewed international celebrities such as Britney Spears, Bryan Adams, Melissa Rivers, President Donald J. Trump, and Mick Jagger, among many other luminaries.
She has already been endorsed by brands such as: Chanel, Osklen, Marks & Spencer, and Azzedine Alaïa, for whom she worked repeatedly in her early days as a model and remained a good friend throughout the years. Her career has put her on the cover of every major publication including Brazilian Vogue, GQ, Rolling Stone, Maxim, Cosmopolitan, FHM, Shape, InStyle and Glamour.
After research done by ABC network, Luciana was invited by Barbara Walters to participate in the program The View as a co-host on June 10, 2013. One of the main issues addressed by the program was the campaign against the prevention of communicable disease by prostitutes.
Gimenez gained international attention when she became pregnant with Mick Jagger's child from a relationship the two had for some time. Lucas Maurice Morad-Jagger is the rockstar's youngest son. In addition to Lucas, Luciana also has a younger child, Lorenzo Gabriel, from her decade-long marriage to businessman Marcelo de Carvalho.
Besides her career on TV and her family, unequivocally her proudest accomplishment, Luciana also lends her name to a perfume collection, a line of shoes and also accessories.
Whenever Luciana has breaks from her TV shows in Brazil she can be found aboard yachts in the Caribbean or Mediterranean, or at home in her Upper East Side townhouse in New York City.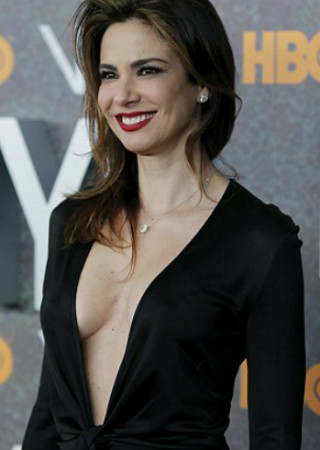 news api call